I saw a meme on twitter earlier this month featuring the Queen about to give her Christmas speech captioned "well, where do we start?" Rest assured people writing "looking back" posts all over the country are wondering the same thing.
Back in January Jacqui and I were in positive mood having had a good Christmas break, albeit a week apart (she went back to Kent to see family for Christmas and New Year and I went back the first week in January). We had a cracking time at the Manchester Beer and Cider Festival which, as it turned out, was the only festival we attended in person this year. After that Jacqui succumbed to a mystery illness which we still think might have been C19. She was really very poorly and didn't really recover until April.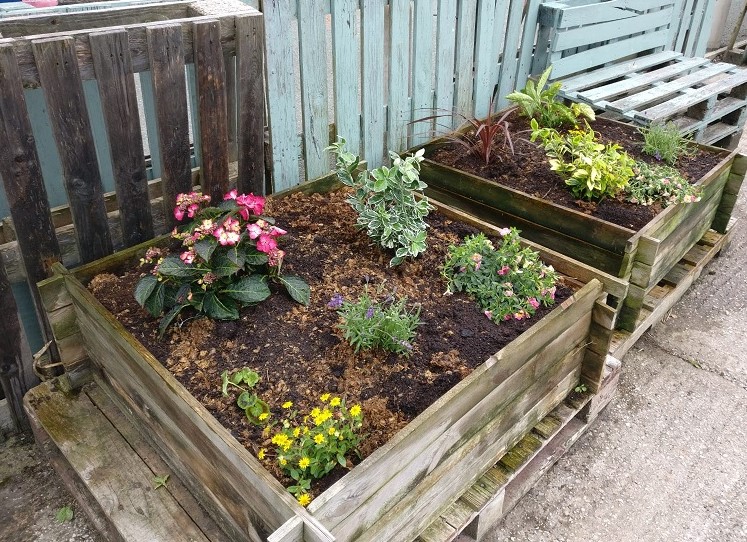 As a business we were performing well against the previous year and very much felt we were on target to break even at the beginning of year three. Something we were very happy about. We had created some excellent beers, the taproom was starting to attract customers from outside the immediate area and our events, particularly the cheese night, and the vinyl night were very well attended indeed. On the brewery side, we were selling a reasonable amount of beer into the trade; so much so, that we were hiring a van twice a month rather than loading the Skoda twice a week.
Everything was looking encouraging.
Of course we all know what happened next.
It's not overstating the case that Jacqui and I were extremely concerned about how we would manage. Along with most of the rest of the industry we rather felt the government had thrown us under a bus by telling customers not to go to the pub without telling us how we were supposed to make money.
Still we took a few days to formulate a plan based around deliveries and had offers of help from two of our customers Nick and Iain. This, combined with some excellent weather and, of course, fantastic support from our customers gave us much in the way of hope. In turn it gave us the opportunity to order in volume from our cider suppliers (Kent Cider Co, Ascension and Ross-on-Wye) as well as getting guest beer in via Jolly Good Beer. I make this point specifically because manufacturers and wholesalers, crucial and integral to the hospitality industry have been hit very hard indeed.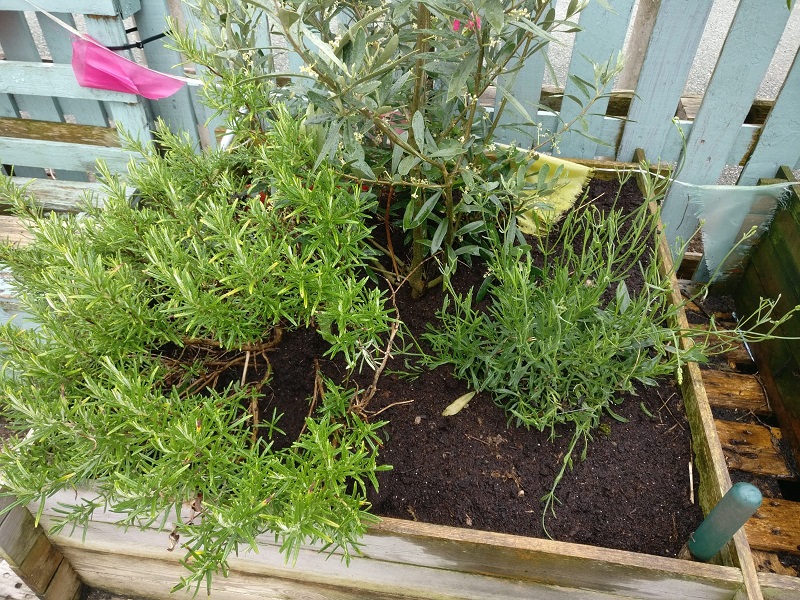 Somehow the bar had been turned from a communal space into a delivery hub covered in carboard boxes and 2 litre plastic milk bottles. We found it very difficult delivering beer and waving to customers we'd normally greet with a hug but we were being kept very busy and, given the horrors of late March, we were pleasantly surprised by how thirsty you all were. We took the opportunity to tidy up the outside and Jen's green fingers tended to the planters.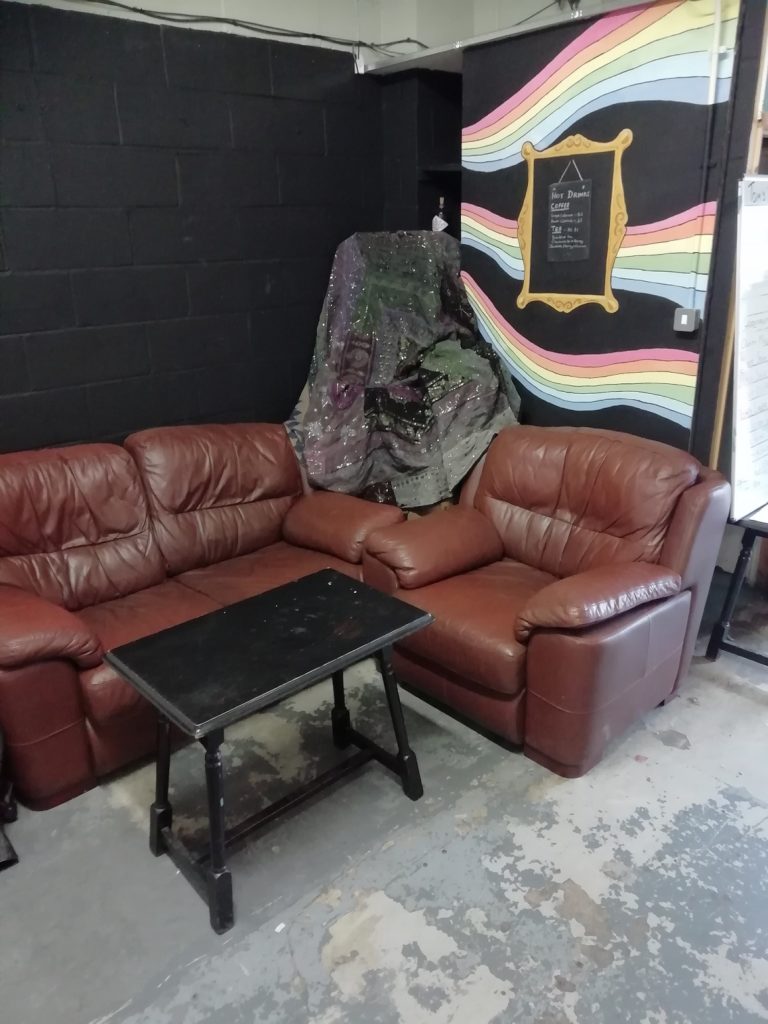 Having bought pallets of from two of our cider suppliers the warm weather promptly evaporated and sales of said cider promptly halved. Still, we have 4 degree cold storage so, it's not about to go off. In the meantime, Jo and Jen popped in to do a bit of painting.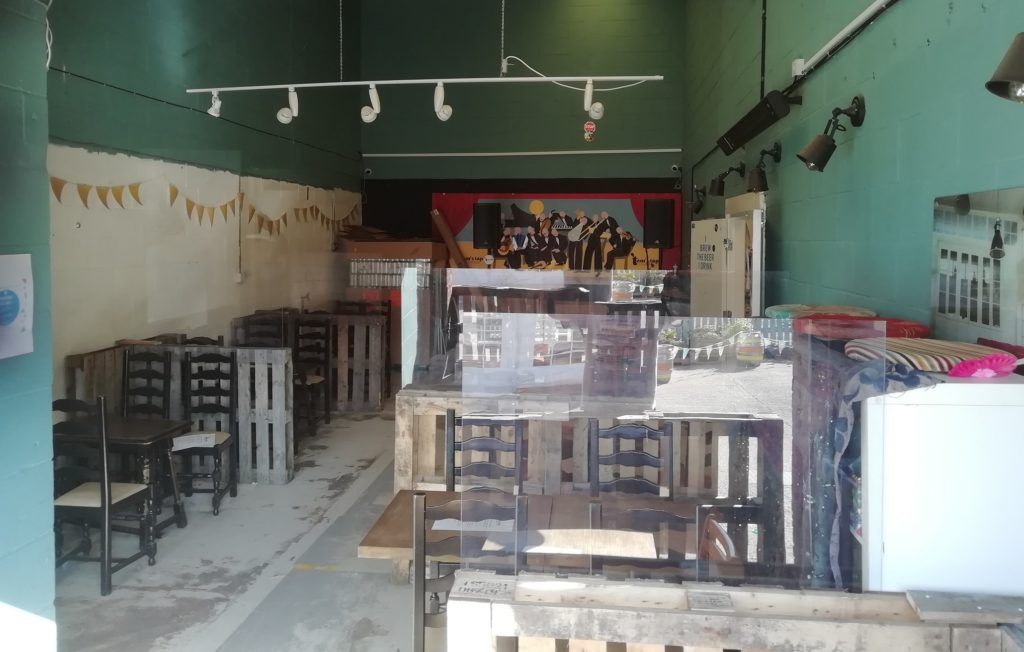 Come July and it was time to open. We spent so much time agonising over what was the safest way to open that we waited for a fortnight before doing it. Sign in sheets, table service, table bookings inside and card payments only was our way to go. The feedback was great, some really loved the table service but most of you were just happy to be back in a pub.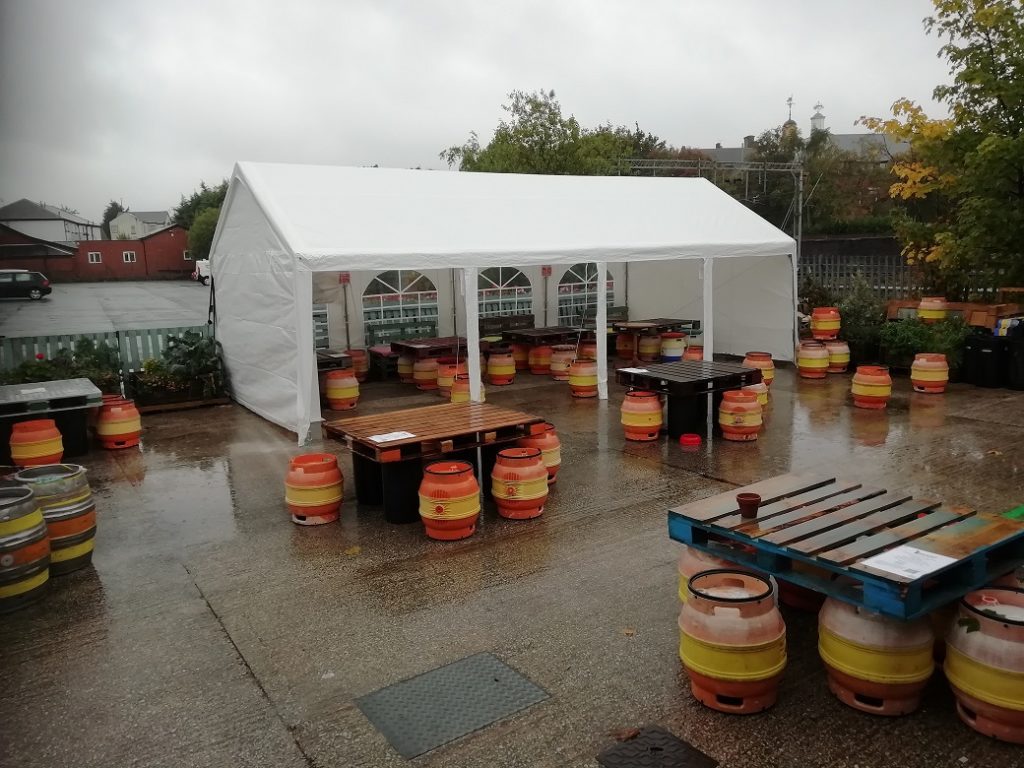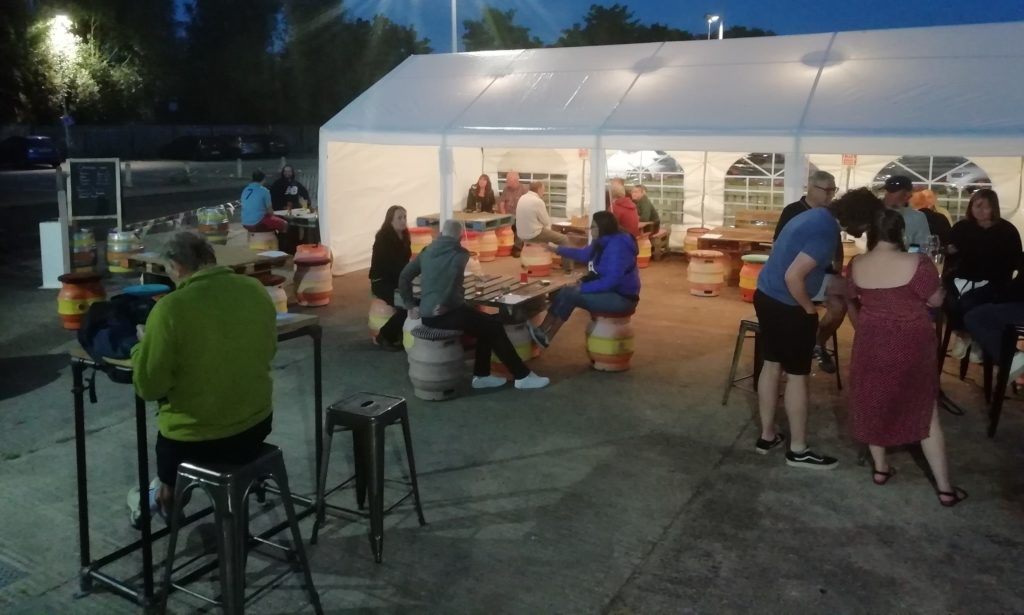 As long as the weather was good everything was hunky dory, of course we live in Crewe so it mainly rains and, with that in mind, we checked down the back of the sofa and ordered the Marqueebo from Germany. The late summer evenings soon became nicer to sit in as we added lighting, blankets and hot water bottles.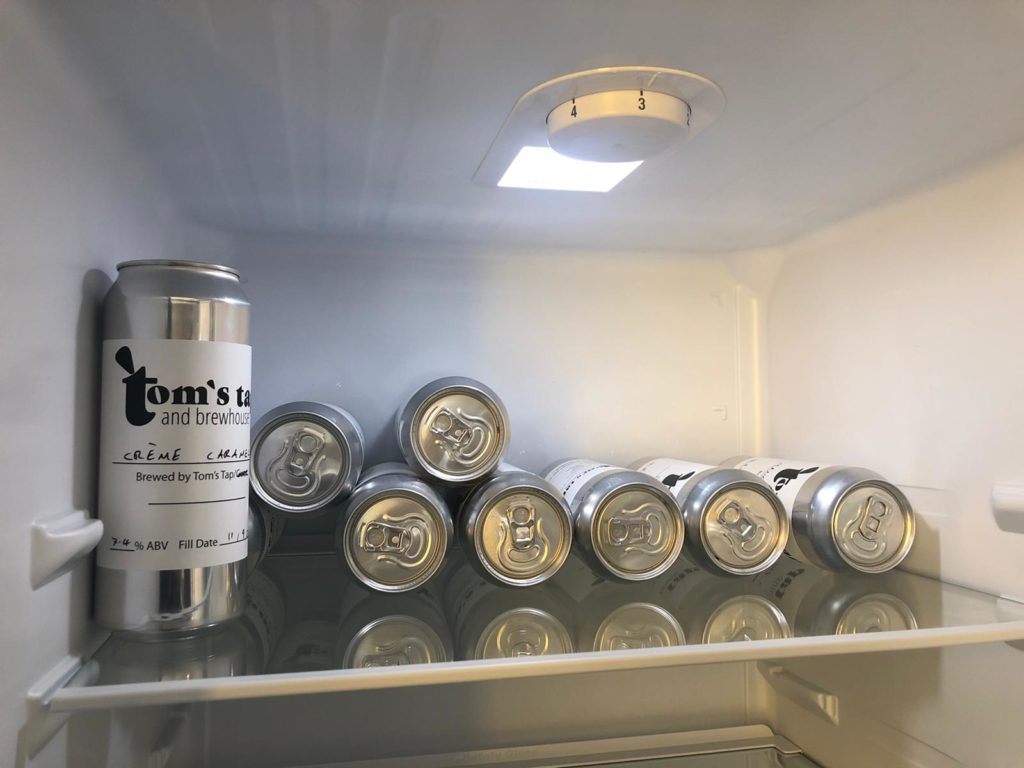 Inside the bar we'd eschewed 2 pint plastic bottles in favour of 500ml cans. Although they are less cost effective and take much longer to package it is 100% the best for the beer and, as you all know by now, that's what governs most of our decisions. It allowed us to make our delivery network UK wide which, when the second lockdown happened, probably kept us going when the business could have ground to a halt.
So the "coronacoaster" pretty much kept on giving throughout the year and we had to shut down again in November. In December it soon became apparent that opening wasn't an option for us and here we are at Christmas with a hint that things are going to get better but probably not before Easter next year.
It's time to thank all of you who supported us throughout the year both by turning up and spending your hard earned and by volunteering your services to keep us going and for making Tom's a nicer place to be.
Thank you.